There are just a few days until Christmas. I love this time of year. The Christmas carols are playing, friends and family are shopping, but mostly, I love the anticipation of the birth of Jesus. Sure his birth was over 2000 years ago, but I love remembering how Christ our King, King of Heaven and Earth, arrived as a helpless, simple, child. Not in a palace, but in a barn or a cave. This Christmas season my mind has also been on Mary. I wonder what it was like for her to carry the messiah? Talk about pressure, talk about a big deal!! What about the angel that appeared to Mary with a life-altering request? Not a normal night at home for Mary, that's for sure!
When the angel Gabriel appeared to Mary asking her to give birth to the messiah, she said: "Behold, I am the handmaid of the Lord; let it be done to me according to your word." (Luke 1:38)
How scared Mary must have been! I doubt angels visited her regularly, yet I think sometimes we dismiss her obedience as being far out of our reach. A young woman, not yet married, not yet held intimately by a man. She must have been a good Jew, honoring the Sabbath, praying and fasting, knowing and believing that some day the messiah would come, but I doubt she ever expected she would be so instrumental to the birth of the messiah. So why does it seem like something so natural and easy for Mary to have said "yes"? How is it that Mary didn't say, "It would be so inconvenient, so difficult to accept this pregnancy. It really isn't in my plans. I've never been with a man, so how is it that I will bare a son, and not just any son, but a son by the Holy Spirit? No one will ever believe that!! I will be ridiculed and laughed at! Joseph, my fiancé', will never accept this and I can't loose him! What about the plans I have made? Surely God would want me to be happy and an early, "unwed" pregnancy with the Father being the Holy Spirit was so NOT in my plans! Can you choose someone else? Or could you ask me again in a few years? Maybe then I will be ready. At least maybe I should consult with my rabbi or my parents? Or Joseph for that matter?"
This type of response from Mary seems silly doesn't it? Yet this type of response is how I often respond to God's hand in my life. It seems that God's plans and my plans never intersect or even come close to crossing paths. I can get so caught up in my desires that even recognizing God and his plans in the mist of my life can be very difficult.
Living a life striving for holiness more often than not means that my plans get moved to the back burner. I would like to say that this happens easily, that I desire God's plans and not my own and that I willingly move my plans to the back burner and choose God's plans instead of my own. Unfortunately that is not the case; I often watch as my plans get squashed and I rebel kicking and screaming while God tries to get my attention!
In theory I desire God's will for my life, but I still desire my plans too. But when I include "Thy will be done" as part of my daily prayers I am giving God permission to adjust the happenings of my day (and life) to suit His plans instead.
Sure we want to be God's servant; we want to be obedient; we want God's will to be done in our lives. In our heart we want to say "YES" to God, but if you are like me, we also want to know the path. We want God to reveal to us His end game, the final destination. Too bad it just doesn't work that way. God wants us to give Him permission to guide and direct our lives and trust that His ending, while unknown, will be perfect. And even more than that He wants us to lovingly accept any hardships that He allows to help fulfill His will in our lives. That is what we are agreeing to when we pray "Thy will be done"; that is what we agree to when we say "Yes" to God!
How does Mary's "YES" apply to our marriage? How do we say "YES" to God in our marriage?
We say "yes" to God daily when we choose to love our spouse in the middle of our crazy lives.
We say "yes" to God when we make a conscious decision to put our spouse first, with only God being more important. That means our spouse takes priority over our work and even our children.
We say "yes" to God when we choose to persevere in our marriage even when we are struggling and the world would encourage us to throw in the towel.
Just like in other parts of our lives, in our marriage we want to know that the end game or final destination will all be worth the effort and heartache of today. When we say, "yes" in our marriage, we want to know that it will all be worth it and not wasted time.
This last "YES" is the one I feel called to write about today. We say "YES" to God when we choose to stick out our crisis marriage even when the evidence of the world says our marriage is doomed. Like Mary's, our "YES" in the face of uncertainty and possible ridicule is courageous and unexpected. Most likely there is not anyone among our family or friends that can guide us through this difficult time; like Mary we feel alone. Like Mary, this journey was not in our plans.
As I look back on my life so far, I am reminded about a few times when I remember specifically saying YES to God, one of them is heavy on my heart today; the day I remember saying YES to God when he asked me to stay in my marriage. Below I have shared a journal entry from 2009; the journal entry is reflecting on an event that took place in 2006. The event is the turning point in my fight for my marriage; when I truly turned over the outcome to God. I effectively said "yes" to God, knowing that I could not save my marriage with my own power but that only God could.
Journal from 2009
I am looking back at the photos from the first few months after Jack was born (Spring 2006). It is amazing to me how genuine my smiles are in the pictures. Of course I would be happy to be holding Jack or loving him, but the spring of 2006 was some of the darkest times in our marriage and in my life. As I look at these pictures, knowing the darkness that existed, I cannot see the darkness in the pictures. You would think that if anyone could see the darkness, I could; I know the fights, the emptiness, the desires to grab the boys and leave, I know it all. Yet in many of the pictures not only do I not see darkness, I see a glow; I see joy. And I am sitting here wondering were on earth does that glow come from?
Moved from within I spoke to God saying: "It's you isn't it. You were there. I prayed so many times that they would see you and not me."
God replied: "Yes that was me, shining through you. You had giving your entire life to me; they were seeing me, as it is supposed to be. Do you remember when you had come to the church, you had lost all hope."
My heart filled with Joy as I recalled: "I remember, it was the middle of the day. I walked into the church to the front near the alter and I knelt on the concrete between the pews and prayed. It wasn't long before I was laying flat on the ground. My face, my belly, my legs everything flat on the ground and I prayed, 'God please take this away, I give it all to you please take it from me. I cannot do it any more, I give it all to you.' And I remember your response to me like it was just yesterday…you said 'If I can die and rise in three days, I can do this too, you just have to let me.'
God to Melissa: "Those pictures you are looking at are from that time. I am always with you but it was during that time that you really gave me the steering wheel."
Melissa back to God: "Wow and you really shined through more than ever in my face. What a lesson that is. Those pictures have so much joy in them, but I don't remember my life having much joy at that time."
God to Melissa: "Your life was full of trials, but those you came in contact with only saw joy and you brought them joy."
Melissa to God: "I am glad for that; I would not have wanted to bring them the darkness in my life. I hope my kids also received joy instead of darkness."
God to Melissa: "Don't worry they did."
This journal entry is an example of the many times God and I conversed while I was writing in my journal. In the Spring of 2006 it was impossible to look past all of the darkness, but what I could do was choose to believe in God's promises to save my marriage. That day in the church I said "yes" to God's plan for our marriage even though it seemed impossible that anything good could come out of all of the darkness. I guess the lesson for today's blog is to say "yes" to God even when and especially when the outcome is unknown or uncertain. Saying "yes" to God doesn't mean that God does all the work. Sometimes I meet spouse's that do a great job praying but they forget to act. Somehow they seem to think that God will do all of the work once we say "yes". The opposite is actually true. Saying "yes" means that we take steps forward and we look for God to guide those steps even when the steps might be painful or take us far away from our own desires.
Suggested Action:
Say "yes" to God daily by loving our spouse in the middle of our crazy lives. During this Christmas season choose to do something your spouse might want to do but you have always rejected. Let your spouse's desires take priority over your own.
Maybe there is a tradition your spouse grew up with but you have always thought to be silly or childish.
Maybe this year you agree to go to the Christmas Eve church service at your spouse's preferred time instead of your preferred time.
Maybe you make your spouse's favorite childhood Christmas dessert. The one you always seemed to run out of time to make.
Maybe its watching a football game on Christmas day with your spouse because his favorite team is playing
Maybe you choose to play the card game your spouse remembers playing as a child instead of what you want to do.
Suggested Prayer:
Jesus, you came to us as a humble child in a humble stable over 2000 years ago. Help us remember that this time of year is not about presents and lights but about celebrating your birth. Help me remember to be humble as you were humble instead of being arrogant and proud. Help me to humble myself and be of service to my spouse this Christmas season instead of focusing on my agenda and my needs. Help me choose Joy and Love this Christmas season instead of being wrapped up in the worry and anxiety that often dominates this time of year. Let my love for you spill over to my spouse so they will know how much I love them. Most importantly, help me say "yes" to you and the plans you have for our marriage, putting aside my desires and plans for what you have in store. Your loving servant, Amen!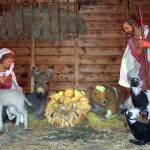 ---
HOPE IN A BOX (www.hopeinabox.com) has several inspirational items that offer H.O.P.E. (Hang On Pray Everyday).  Use discount code:  SERVANT10 for 10% off your order!