Here on Servant Spouse I write mostly about marriage and my expertise I guess you could say is crisis marriage. If you have followed our blog for this last year you know that in the past we suffered greatly "in" our marriage and "with" our marriage but what you probably do not know is "the rest of the story."
The cliff notes version of the crisis that has plagued our life begins with the 10 years of severe marital crisis I have referred to in my blog posts. The rest of the story is that as the 10 years were winding down and I could finally say "I think I love him again" ….WHAM…. (within a month of having that thought) I became very ill. This mystery illness kept me bed ridden most of the day and unable to work or function as a wife and mother. It took more than a year and traveling around the country to find the 1st of 2 rare diagnoses. I lost my job and our financial security because I was the primary breadwinner for our family at the time.  Another year goes by with more doctors' appointments and more traveling across the country and finally the 2nd rare diagnosis was found, followed by brain surgery in New York (I lived in Kansas at the time). Even with the knowledge of these rare illnesses, doctors said I needed to get used to my "new normal" of minimal function, high pain, and lower quality of life. For years I strived for more than that, only to find myself still severely restricted and unable to do things most people would take for granted. For the next 5 years I continued fighting these 2 rare illnesses. Each day I battled my desire to be productive verses the reality of my body not being able to do what I wanted and desired it to do. We even moved south last year, 2 states away from family, so that I could hopefully feel better in the warmer climate. Slowly, I started to have hope that "wow, I do feel a little better here, maybe I have a chance of feeling a tiny bit of normal again". Then… WHAM…. 2 new crises. A 3rd mystery illness appears and lands me in the Emergency Room. 2 weeks later my oldest son becomes very ill. Some days he was fine and others he was in terrible pain. The doctors did not have a good explanation and I was fighting my internal fears that my son might be plagued with the same mystery illnesses I have. For months the doctors searched for the answers to treat my son, all while my 3rd rare illness continued to go undiagnosed. My son and I were alternating ER visits and doctors appointments and for the first time in my many years of crisis I AM LOOSING IT!!!!!!
For 17 years not only have I been in crisis, my whole family has been. My husband, my children. Crisis, after crisis, for years they have been piling on top of each other. I am so tired of drowning, so tired of adjusting to a new crisis only to be plagued with another. And what I did not share in the cliff notes above is all of the secondary crises (more financial crisis, family crisis, in-law crisis, loss of friends, doubt of medical professionals, etc) that occurred in addition to and on top off all of the health crises I did share.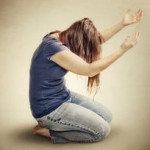 I have been in conversation with God through all of this. Year after year I have put my faith and trust in him. A few times I have had to fight back the anger, the WHY ME!! But so far I have been able to stay grounded, that is until now. Now my conversations with God have been pretty one sided. WHY ME, HASN'T MY FAMILY SUFFERED ENOUGH!! DON'T WE DESERVE A BREAK!!!! 17 YEARS OF STRAIGHT CRISIS (one after the other), I CAN HARDLY BREATHE, COULDN'T YOU GIVE US A MONTH OR YEAR OF PEACE BEFORE THE NEXT ONE!!!! Then it happened. I went shopping at the local grocery store, mostly for foods that might agree better with my son. As I arrived at the checkout, I realize I do not have my debit card or credit card. I only have $27 cash and my checkbook. And guess what, they do not take checks!! My credit card…I had used to pay a bill at home and I forgot to put it back in my wallet before I left for the grocery store. My debit card…I realized, I had left it at the restaurant where my husband and I were having lunch earlier that day. So I ask the cashier to only ring up $27 and I will be back later for the rest. The man and woman behind me kindly say, they would be happy to help me out. My first instinct was of course to say no. I had the money, I just did not have the right means of payment, "They should save their generosity for someone else," I thought. They continued to insist, even as the boy bagging my groceries began to remove the groceries so he could return them to the shelf. 3 times, I went back and forth with the couple behind me. They continued to insist on helping me. Finally I gave in and allowed them to pay for the remaining groceries, approx. $50. Part of me was humbled and grateful and part of me was mortified and embarrassed. The man just asked that I "pay it forward" and I told him confidently that I would as I gave him a big hug. As I arrived at my car and loaded the grocery bags in the back, tears began to roll down my face. It was at that moment that I realized that it was God showing up for me. God had arranged for all of my normal payment methods to be unavailable and for me to be in line with that couple. It was God that urged them to pay for my $50 worth of groceries. It was God saying "I am here, I have not forgotten you, I have not forsaken you, do not give up on me." God knew how badly I needed Him to show up. I needed a sign to help me persevere. My initial reaction was to argue with God about the amount. Why $50, why not $2 or $5. God said, "I needed you to know I was here and I needed there to be no doubt." Had I just been short $2 or even $5, the couples generosity would have been great and I might have more easily accepted it but because of the magnitude of their assistance and my ego being challenged by their perseverance, God could give me the sign in a way that I knew it was God. I am sure that couple left the grocery store with a warm fuzzy feeling having helped someone, but something they will never know (except maybe one day in heaven) is how their generosity saved me that day; how their generosity was a direct message from God to a desperate woman at the end of her rope. It was their generosity that helped me see I had plenty of rope left, that God's rope was infinite.
Sometime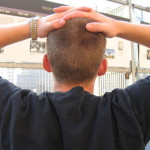 s, no often times, it is easy to want to give up. Life can be very hard and we wonder, where is God? Why has God allowed for all this suffering? Why has he allowed what seems like extra suffering and crisis for some and not for others? And why does it seem God allows another crisis to fall on us when we are already struggling to stay afloat with the current crisis. Of course you know the saying "God won't give you more than you can handle"? But, I like a slightly different version of the saying "God won't give you more than he can help you with." Life isn't about what we can handle; it is about what God can do through us. What he can help us with. What he can help us help others with. I have no idea why God has allowed for all of my personal suffering and for all of the suffering my family has endured; I could guess it is to help others endure their suffering and not loose faith but I may never know for sure. What I do know is that I choose to believe that His purpose is great and that I am learning perseverance and fortitude that will hopefully aid me in this life in staying faithful despite the ongoing suffering and crisis. When we are drowning and struggling to catch our breath and another big wave crashes while pushing us under even further, only God has the ability to bring us to the surface to help us breathe. We often try to handle everything on our own or control the outcome of situations, but it is in these terrible moments that God teaches us and shows us that all we need is Him. That He will always and forever be there for us, and His plan is so much greater than our own.
To catch you up on the cliff notes: My son has finally recovered, after 6 months, from a strange illness with an unknown cause. He is a perfectly healthy teenage boy! My 3rd rare illness was eventually identified and is being treated with medication. All 3 rare illnesses are not curable and I continue to battle my desire to be productive verses the reality of what my body is not able to do. BUT I am slowly feeling better and am able to do so much more than I have done for the last 7 years. I am grateful for every new thing I am able to do, or "old thing" I am able to do again. My husband is amazing; having once been the source of my crisis, he is now the rock that keeps me focused in my faith. This summer we will celebrate our 20th anniversary; 17 of those years have been in severe crisis, one after the other. But you know the strange thing is that the love I feel for my husband is so indescribable. Having once hated the sight of him and the sight of his feet; now my love, rooted in suffering, sacrifice, and service is larger, stronger, and more pure than any human could have ever orchestrated.
Earlier this week, our priest was speaking at mass about the difficulties that happen in our lives. Father said: "When bad things happen in our lives, it is not about us! When we are diagnosed with a terminal illness, when we are abandoned by our family, when we are mistreated by our neighbor, when we are struggling in a bad marriage, etc.   None of those things are about us. They are about God. "   This world has influenced us, taught us that everything is about how it effects us. But what Father was telling us is that no matter what happens to us, it is about God 1st and foremost. It is about how God can use us. When we are suffering, do we point others to God or away from God?
When we are suffering, do we focus on how terrible we feel or how badly we are being treated? Of course we do, we are only human; but we can ask God to help us push through our pain and do His will instead of our own. We can ask God to give us His strength and like Father said we can find comfort in knowing our suffering is not about us, but about God. WOW…isn't it refreshing that our suffering is not about us at all; our suffering is allowed by God because He can always create good from our suffering. I guess the question for today is: "Do we cooperate with God and the goodness he desires would come from our suffering? Or do we fight God and squash the goodness God could have made out of our suffering?"
If you are suffering in your marriage or another part of your life, my prayer for you today is that even if you too are drowning and "at the end of your rope" you will find the infinite rope that God has available to save you, guide you, and support you.
Suggested Prayer by Melissa B.
Almighty God, ruler of all things. Up until today, I have been drowning in my crisis unable to see You and the good You can do with all this mess. Since You are ruler of all things, today I declare that You are ruler of my suffering, ruler of my crisis. No longer will I allow my struggles to define me, but instead I will allow you and your goodness to define my struggles. No longer will I let my crisis bring out the worst in me, but instead I will allow You to use my crisis to bring out Your best in me. Help me to remember that the difficulties in my life are not about me but about You. Everything for Your glory! Amen!
Suggested Scripture:
Romans 8:28 "We know that in everything God works for good with those who love him, who are called according to his purpose."
1 Peter: 5-6 "Cast all your anxieties on him, for he cares about you."
Phil 4:13 "I can do all things in him who strengthens me." **MY FAVORITE**
Romans 8:18 "consider that the sufferings of this present time are not worth comparing with the glory that is to be revealed to us."
2 Corinthians 4:16-18 "So we do not lose heart. Though our outer nature is wasting away, our inner nature is being renewed every day.  For this slight momentary affliction is preparing for us an eternal weight of glory beyond all comparison, because we look not to the things that are seen but to the things that are unseen; for the things that are seen are transient, but the things that are unseen are eternal."
Suggested Actions:
H.O.P.E. (Hang On Pray Everyday) – Stay in prayer daily and throughout the day. Remember: "God won't give you more than he can help you with."
Remember you are only human and you will have the "Why me" days and its ok to get angry and yell it out with God. He knows how frustrated you are anyway; you won't surprise Him!
Remember to take it one day at a time. The magnitude of your entire crisis is too big to swallow all at once. It can overwhelm you and freeze you in place. It can also depress you when you are focused on how the crisis is affecting your life, especially if it is taking away something from you. Try to focus on how God is teaching you something or molding you for something greater.
Be careful who you allow in your circle while you are in crisis. When you are drowning, struggling to stay afloat or catch your breath, the last thing you need is to have someone sending more waves your way or trying to drag you under with the current. Allow people in your circle that point you to God, are willing to lift you up, and help you breath.
---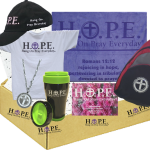 H.O.P.E. (Hang On Pray Everyday) – Looking for some inspiration to Hang On during the difficult times?  Let our products at www.hopeinabox.com remind you daily that God has your back!!